Low profile Lift table for pallet levelling - E+U shaped
For pallet handling and packaging lines a low profile pallet pal is the optimal low profile lift table.
Sax Lift offers several types of low profile lift tables: Lift tables with ramps, U-shaped lift tables and a E-shaped lift tables for easy pallet handling. Products are in stock and we gaurantee a fast delivery.
Low profile products for pallets
A roll-in levelloader is a low profile lift table that makes the job of manually loading and offloading easy, fast and safe. The design makes it easy to access the platform with an ordenary hand pallet truck.
When the hand pallet truck is moved into the opening, the pallet can be placed over the supported area at just 8 cm above floor level.
With the manual switch, a worker can raise and lower the platform to any comfortable hight and easely load or unload the goods without bending or stretching. When offloading a pallet the platform can continously be raised and speed up the process and minimize the workload on the worker. Even when reaching the bottom of the EUR or UK pallet, a comfortable working level is possible.
Using a palletpal with a ramp, any load on wheels can be rolled on to the supported area and lifted up to an ergonomic working height.
A is available in different sizes and capacities and even bespoke solutions is manufactured to fit your needs.
A manual hand pallet truck fits in the gap on our E and U-shaped lift table. A ramp is not required when the U-shaped table is used together with a pallet truck.
The E-shaped lift table is ideal for heavy lifts requiring extra stability. The E-shaped table can be used for loads up to 1000 kg. A low profile lift table can be placed directly on the floor - avoid building a pit by using a low profile lift table.
All lift tables from Sax Lift are tested before shipment and delivered ready to use, plug and play, with the regulated safety equipment installed. The tables are CE-marked and comply with the requirements of EN 1570-1 + A1, 2nd version 2014-10-09.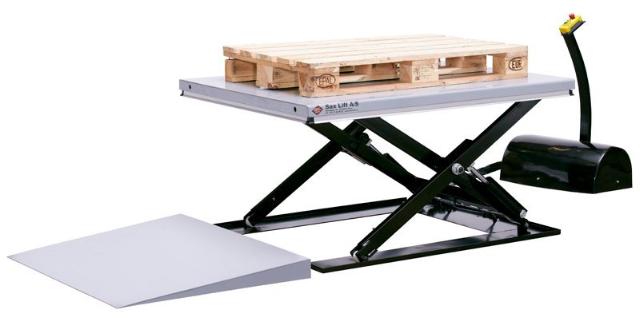 Your options are unlimited
Sax Lift is a leading lift table manufacturer with a dedicated team of Lift Table Specialists.
Our team is ready to guide you to the best solution to fit your lifting needs.
GET A 2% DISCOUNT
Our standard Lift tables and mobile lift tables are available in our web shop.
Get a 2% discount on the list price when ordering and paying online.
CONSULTANCY
Give us a call and our expert team will provide you with help and ideas for your new scissor lift solution.
We've been in the market since 1993 and have accumulated experience and knowledge.
RECEIVE A QUOTATION
When you contact us with a need, we will quote you with a solution designed exactly for your needs.
Find the product that suits your needs and click the GET QUOTE button.