STAINLESS STEEL SCISSOR LIFT TABLES 
Stainless steel lift tables are durable and easy to clean. They are ideal for hygienic areas and has a superior resistance to corrosion that results from the presence of chromium in the alloy. Stainless steel provides an aesthetically appealing and clean surface. And combined with the resistance to corrosion our stainless solutions are suitable for use in the following industries:
Pharmaceutical

Medical industries

Food processing industries
as well as other areas with high demands for cleanability, strength and corrosion resistance.
Our stainless steel product range includes both scissor lift tables and scissor lift trolleys.
The stainless steel hydraulic lift tables from Sax Lift are typically made out of stainless steel AISI304 for all the main parts of the scissor lift table. This includes the top plate, the scissors and the base frame. Some hardened small parts on our low-profile stainless steel pallet lift tables are made of AISI 410.
Our high quality tables are built with cylinders, including piston rod and plungers, in AISI304 as a standard. A few of the lift table for pallets have cylinders and plungers made of C45 steel with a chrome plating surface treatment ensuring a high resistance to corrosion.
We hold a range of stainless steel lift tables, as well as a range of stainless steel mobile trolleys in stock. Further to that we have a wide range of galvanized lift tables with stainless steel top plates AISI304 in stock. These tables provide a durable and easy cleanable solution with a very high price-value.
On request we are also building custom made solutions in AISI316. Below you will find examples of our customized as well as custom-made stainless steel solutions together with our full range of tables in stock. With our expertise in customized solutions, we can offer very flexible solutions fitted on our standard stainless steel products as well. Tell our specialist team about your requested solution and we will help.
The base frame and scissors of this table are both galvanized. The upper part is what makes the table very unique. The top plate is made of stainless steel AISI316 and the turntable tower is fully covered with stainless steel AISI316 as well. The turning function runs automatically through the hand controller and has been built with a frequency inverter to control the speed of the turning function.
This model belongs to our family of galvanized tables with a stainless steel top plate. It provides a good price / value and still offers the superior characteristics we have on a stainless steel top plate.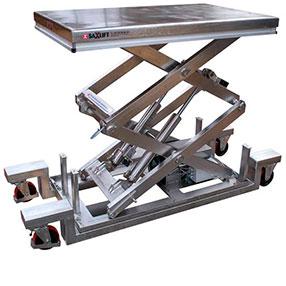 This table is another good example of a custom made stainless steel scissor lift table where the customer had 2 specific demands for the construction. One was the ability to move the table around on wheels and secondly the need for a low building height that we provided through a stainless steel low castor wheel frame.
We are really proud of this custom made stainless steel table we produced for one of our customers. It is part of a larger new setup in a logistic area where we have supplied a total of 8 tables. All with an identical construction, however the 4 tables made in mild steel and the remaining 4 in stainless steel. The lifting height reaches 3 meters and the table is adapted precisely to the customer's needs.