Increase safety and
protect your lift table's scissors with bellows
Our lift table with bellow are a great way to increase safety and protect your equipment from damage.
We have two options for you to choose from, so you can find the perfect fit for your needs - a PVC standard bellow or a steel mesh curtain. The bellow is easy to install and protects your scissors from most outside objects, while the mesh curtain provides even more protection and can be installed on any type of lift table.
Keep your lift table safe and in top condition with our durable and long-lasting skirts. Feel free to ask questions regarding your needs to the experts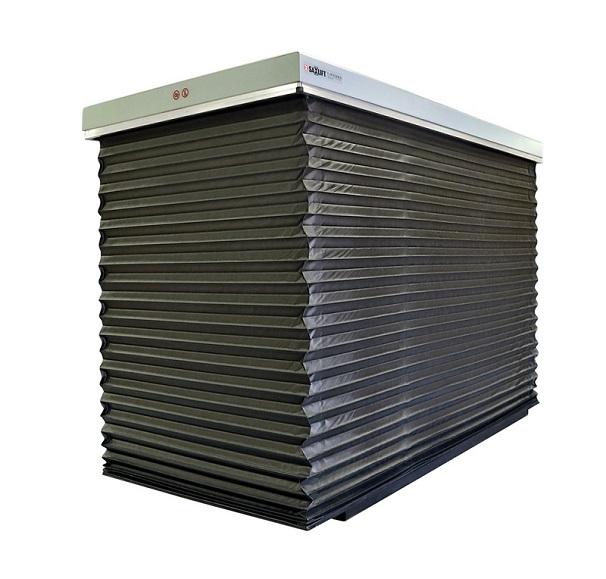 We carry a wide variety of lift tables to suit any need. Whether you're looking for a table to use in your home workshop or you need something more heavy-duty for your industrial facility, we have you covered.
And with more than 80 different products in our range, we're sure to have the perfect lift table for your needs. Plus, all of our lift tables are in stock and ready to ship, so you'll never have to wait long to get the equipment you need.
We also carry a variety of accessories to customize your lift table and make it work even better for your needs. And with our large inventory, we usually have at least 2000 units in stock and ready to ship out at any time.
Shop today and take advantage of our huge selection, and get 2% discount when paying online.
All Sax Lift bellows fit perfectly behind the safety trip bars. The bellow protects the power pack and scissors from water splashes and tools.
NOTE: A bellow is not water- and airtight. It must have some airflow.
The steel mesh curtain can be installed behind the safety trip bar or along the edge of the lift table. The mesh curtain can be used to prevent tools and other items from falling under the lift table.
GET A 2% DISCOUNT
Our standard Lift tables and mobile lift tables are available in our web shop.
Get a 2% discount on the list price when ordering and paying online.
CONSULTANCY
Give us a call and our expert team will provide you with help and ideas for your new scissor lift solution.
We've been in the market since 1993 and have accumulated experience and knowledge.
RECEIVE A QUOTATION
When you contact us with a need, we will quote you with a solution designed exactly for your needs.
Find the product that suits your needs and click the GET QUOTE button.
Your options are unlimited
Sax Lift is a leading lift table manufacturer with a dedicated team of Lift Table Specialists.
Our team is ready to guide you to the best solution to fit your lifting needs.