Galvanized lift tables – for outdoor or humid areas
Galvanized lift tables are ideal for outdoors and other demanding environments with moisture. Sax Lift holds certain galvanized models in stock ready for dispatch, and all Sax Lift tables can be delivered galvanized after enquiry.
Sax Lift holds stock of lift tables with lifting capacities between 500 kg to 7000 kg, lifting heights up to 4 meters and lengths up to 4,4 meters. We also have an extensive range of mobile lift tables.
Sax Lift has over 27 years of experience in building galvanized lift table solutions and will be able to provide customized and bespoke models that fit your requirements.
SAFETY FEATURES INCLUDED
Hose burst valve to secure table from descending in case of breakage/leakage of hydraulic hoses.
Control box and electrical components designed for safety and durability.
Safety bar underneath platform will stop descent if obstructed.
Over-pressure valve to safeguard hydraulics and motor from overload.
Safe maintenance features.
Includes hand controller with up, down, and, emergency stop functions.
HIGH STANDARDS ON COMPONENTS
Unique control box with excellent performance, developed and produced locally next to our production facilities.
Top performing hydraulic components – each one carefully selected for durability and safe performance.
State of the art electrical components and wiring. Designed to last.
Quality controlled – every single table leaving Sax Lift has passed a thorough quality protocol and check procedure.
STANDARD SETUP –  EASY TO INSTALL
Power supply 3-phase, 400V N + PE, 50Hz, 13 Amp is standard.
CEE Power plug.
IP54 rated.
Plug and Play.
Dedicated experts ready to guide you.
This product is in compliance with EN 1570-1 + A1, 2nd version 2014-10-09.

Get any Sax Lift scissor lift table as a galvanized lift table
A standard painted steel solution can very well be installed outdoors, but the lifetime of the machine will be limited due to corrosion.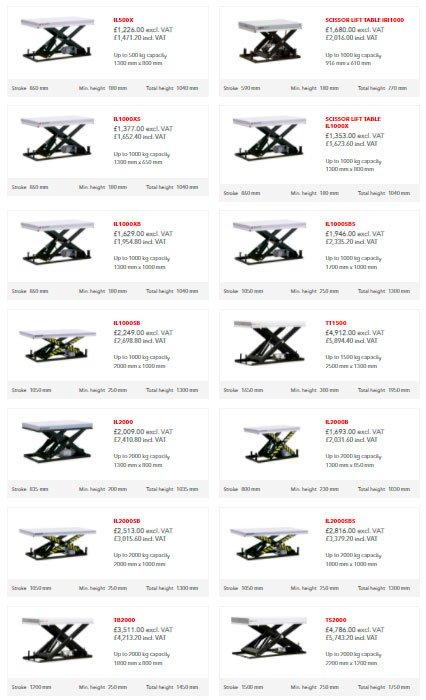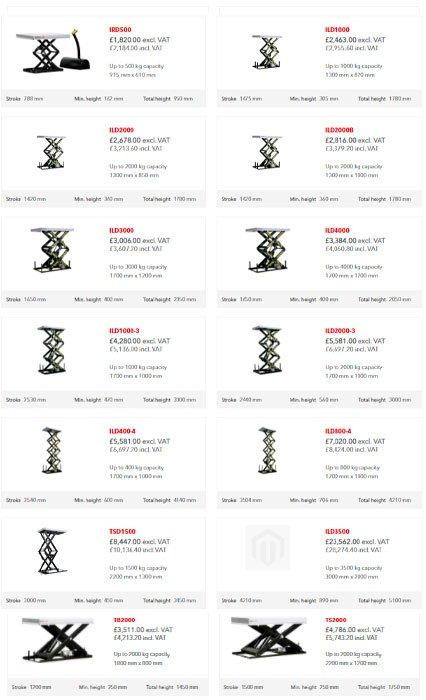 Extending a lift table's lifetime with galvanization
A standard painted steel solution can very well be installed outdoors, but the lifetime of the machine will be limited due to corrosion.
Sax Lift offers three options that can extend the lifetime of your outdoors lift table:
C3-paint – environments with a little moisture
Galvanization – environments with moisture
Stainless steel – wet environments
All electrical parts are IP54-classified by standard, and tolerate water sprays and light dust. A higher IP-class is possible as per your requirements.
All scissor lift tables can be customized and galvanized on request. The tables are delivered hot-galvanized.
All Sax Lift scissor lift tables are tested before shipping and delivered ready to use.
The tables are CE-certified and comply with EN 1570-1 + A1, 2. version 2014-10-09.
Sax Lift, a leading supplier of lift table solutions UK
It is commonly known in the industry that Sax Lift has a large product range within stationary, mobile lift tables and customised lifting table solutions.
Based on a well-assorted standard range of stationary scissor lift tables, Sax Lift is a leading scissor lift table manufacturer in the UK and offers simple lifting solutions for every type of need.
Our standard mobile scissor lift table products cover widely and handle goods from 150 to 1000 kg and up to 1.5 meters lifting height with ease.
2000+ IN STOCK = Fast delivery
Our production and shipping department is both well-functioning and efficient.

Sax Lift handles a large number of lift tables every day, and by having at least 2000 units in stock fast customer deliveries are secured. Sax Lift handles a large number of lifting tables every day, and by having at least 1000 units in stock customer deliveries are secured.
Sax Lift has delivered lift tables to more than 5000 reputable companies all over Europe
See extract of our 100+ international companies in various industries. Sax Lift is represented in more than 20 countries all over the EU.
Customers choose Sax Lift because of our high level of professional expertise and service, and our ability to deliver high quality, fast, and competitive prices.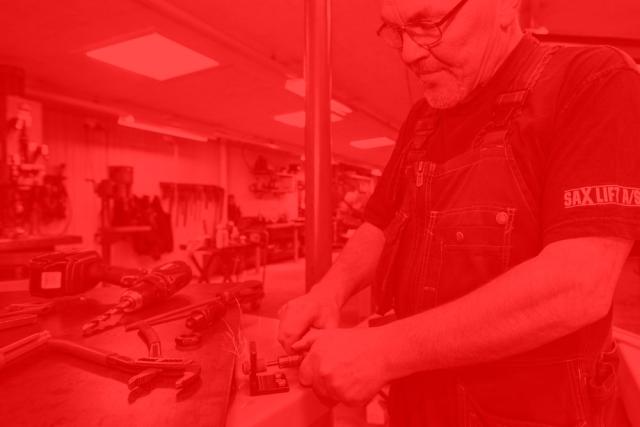 Customised Lift table Solutions
Customised Lift table Solutions Even though our product range contains more than 2000 standard units, more than 50% of our business consists of customised solutions.

Our Lift Table Specialists have solid technical knowledge and always provide the best solution that fits the customer needs.

We are experienced in solving any kind of lift table needs - in almost any kind of industry.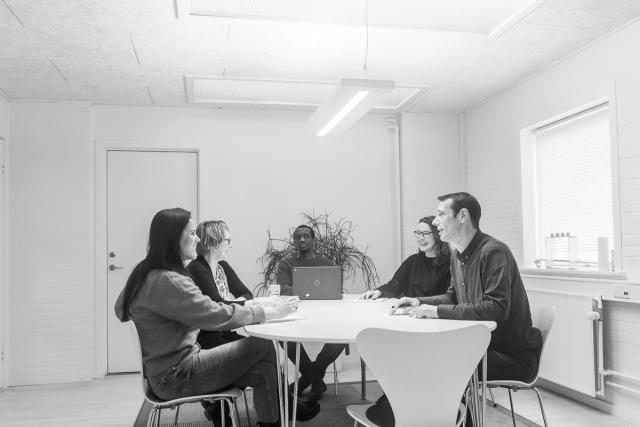 Quick customer response (Quality and reliability)
At Sax Lift we work as a united entity and share a common set of values

- Results-oriented
- Keep it simple
- Keep it quick
- Business integrity
- Credibility
- A good business for both parties
Your options are unlimited
Sax Lift is a leading lift table manufacturer with a dedicated team of Lift Table Specialists.
Our team is ready to guide you to the best solution to fit your lifting needs.
GET A 2% DISCOUNT
Our standard Lift tables and mobile lift tables are available in our web shop.
Get a 2% discount on the list price when ordering and paying online.
CONSULTANCY
Give us a call and our expert team will provide you with help and ideas for your new scissor lift solution.
We've been in the market since 1993 and have accumulated experience and knowledge.
RECEIVE A QUOTATION
When you contact us with a need, we will quote you with a solution designed exactly for your needs.
Find the product that suits your needs and click the GET QUOTE button.