Let our Lift Table manage your heavy lifting
Looking for a lift table? You've come to the right place! We have a wide selection of lift tables and always have at least 2000 units in stock, ready to ship. Whether you need a hydraulic or electric lift table, we've got you covered.
We also carry a variety of accessories, including casters, bellows and other accessories, to make sure your lift table is optimised for your needs.
Sax Lift has the largest available product range, an in-stock guarantee and fast delivery.
large lift platforms
A large lift table is a specialized piece of equipment that is used to handle and move large loads and goods. These tables are typically made from heavy-duty materials, and they are equipped with large motors that allow them to lift large weights. Lift tables can be used in a variety of settings, including manufacturing, logistics, plants, and warehouses
Lift tables are an essential piece of equipment in many businesses, and they can make it much easier to move large items around.
high Lifting platforms
High-lifting Lift Tables offer a versatile and affordable solution for handling goods in a wide range of industries. These tables can be used to lift goods high and safely, making them ideal for applications such as warehouse storage and distribution, factory assembly, car dealers and retail stock rooms.
High-lift pallet trucks are available in a variety of sizes and lifting capacities, so you can find the perfect model for your needs.
Whether you need to lift heavy pallets or delicate products, a high-lifting pallet truck will help you get the job done quickly and efficiently.
Small Lift tables
You don't always need a large, industrial scissor lift table for every lifting job. For light-duty tasks, you can save space and money with a smaller, more efficient model like the i300(trolley) or il500x. can handle from 300 kg (660 lbs), making them perfect for lifting lighter items.
The i300 scissor lift trolley is designed for use in confined spaces, with a compact footprint that makes it easy to manoeuvre in tight areas.
The il500x is a stationary, but small lift table with a wider platform, making it ideal for lifted items that are longer or wider. When you need a small, efficient lifting table for simple lifting needs, look no further than the i300 or il500x.
heavy duty lifting
Heavy duty lifting platforms and trolleys are two of the most reliable and efficient ways to lift heavy items safely. They are easy to operate and provide a safe and secure way to move heavy items.
With a large lifting platform, you can easily raise and lower heavy items. A heavy-duty trolley is also an excellent choice when transporting heavy goods, as it can be easily manoeuvred.
Both of these options are extremely durable and can withstand heavy use, making them an ideal choice for businesses that require high-quality and reliable lifting platforms.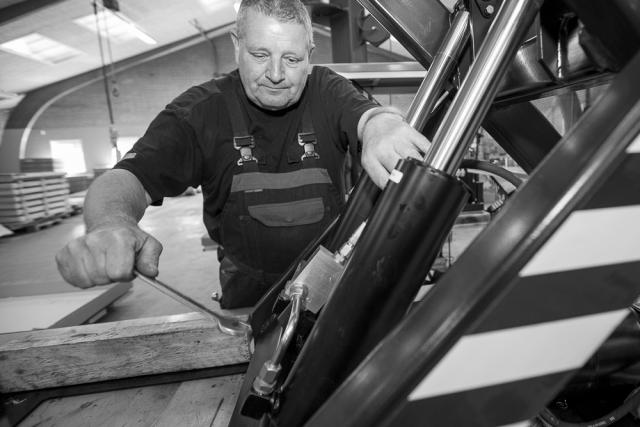 Hydraulic lifting
Hydraulic lift tables are the most common type of lift table. With hydraulic oil, scissors are able to raise and lower heavy objects. Hydraulic lift tables have many advantages over other types of lifting equipment, such as cranes or forklifts. They are safe and it's impossible to tip over when lifting heavy loads.

Hydraulic Lift tables can be operated by a single person. In addition, static hydraulic lift tables are often used in tight spaces where pallet trucks and forklifts would not be able to operate.